Better durability, cost, weight savings, power
consumption, and color quality support the business
case for upgrading aircraft with LED lighting.
Paul Seidenman, David Spanovich | Oct 24, 2018
When Boeing introduced the 787, it not only was the first all-composite commercial jet but also the industry pace-setter in another respect—a cabin interior that was totally illuminated by LED (light-emitting diode) lighting.
"Boeing's Dreamliner was the first passenger aircraft cabin fully equipped with LED, and today, basically all passenger aircraft cabins are equipped with all-LED systems," says Marc Renz, head of business development at Diehl Aerospace, a major supplier of LED interior lighting for commercial airliners.
But LED lighting is no longer just for the cabin. In fact, it is displacing standard halogen and incandescent lighting on the outside of the aircraft, given its better reliability, lower power consumption and overall package efficiencies compared to legacy technologies. "While halogen lighting is still commonly used for exterior aircraft lights, LED is slowly making headway as a replacement," says Stephen Scover, Rockwell Collins vice president and general manager for lighting and interior systems. "There is no lighting application on the aircraft's exterior that cannot be addressed with an LED solution," he argues.
In fact, "many of the challenges we experience with external lighting—such as temperature, humidity and vibration—are the same whether the design is traditional technology or LED," he says.
Scover says the industry has done an excellent job of providing legacy technology that is very damage-resistant. But LEDs, he says, are more robust due to their solid-state design, and they have proven fully adaptable, providing the same benefits of color, maintainability and reliability as they do for interior lights.
Durability is another key factor. For instance, a halogen or incandescent light will be good for 2,000-5,000 hr. between change-outs, while a fluorescent light will burn for about about 3,000 hr. In comparison, an LED provides 50,000-70,000 hr. of light. "All you need to do is install the light, and it may not have to be replaced for the life of the aircraft," he says. "In fact, most of our customers are moving toward LED exterior lighting as we speak."
Then there are weight savings. "An exterior LED lighting unit can provide a weight savings of as much as 50% of an incandescent light, which you can easily calculate into fuel savings and dollar amounts," says T.J. Pope, Honeywell Aerospace product marketing director for lighting products. What accounts for the weight savings, he explains, is the fact that an LED light comes with a small, integrated power supply, rather than a remote power supply unit such as that used by incandescent lighting.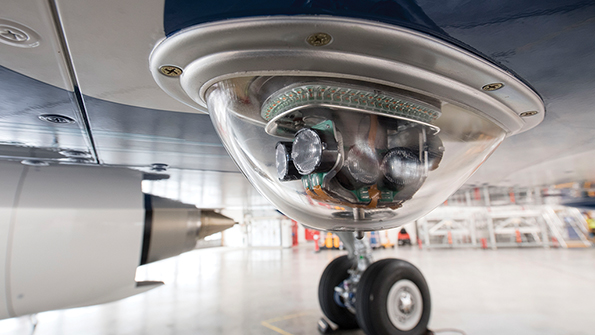 An example of weight savings is the LED lighting package being supplied for Lockheed Martin's F-16 fighter by Patriot Taxiway Industries. "We are furnishing the tail light and the red and green inlet lights," says the company's president, Steven Smits. "By substituting LED for incandescent units, there is about a 2-lb. savings per aircraft."
Along with weight savings, Smits adds that LED technology renders considerable savings in power consumption, noting an LED landing light the company is providing to a customer as an incandescent replacement.
"The light being replaced uses in excess of 12 amps of power, while the LED light, delivering the same output, will use just 3 amps," adds Bill Strozinsky, Patriot Taxiway Industries' production supervisor.
Mayon Neal, UTC Aerospace Systems' general manager for lighting systems, notes that there are three categories of aircraft exterior lights. One includes flood and spotlights for takeoff, landing, runway turn-off, taxi, logo illumination and wing and engine scan. In addition, there are navigation lights and flashing anti-collision lights. Previous lighting technologies, he points out, have included xenon flash tubes for anti-collision lights; halogen and incandescent bulbs for navigation lights; and for floodlights, high-intensity discharge (HID) lamps, sealed-beam and halogen types.
"Basically, all of these previous-generation technologies, some of which go back 30 years, can be replaced with the latest LED technology," says Neal. "The biggest commercial benefit results from replacing halogen, sealed-beam, incandescent or HID units with LED technology, due to better reliability and lower power consumption."
Advancements in LED technology have led to their expanded application to the exteriors of aircraft. "Previously, LED lights were excluded from exterior lighting due to regulatory requirements, but today more exterior lights use LED, leveraging the same benefits as LED lights in the cabin, with some fleets being fitted with mostly LED exterior lights," says Phillip Cheng, manager and principal electrical engineer at Sheffield Aerospace.
LED lights, says Cheng, offer a cost advantage over older lighting systems, primarily due to reduced maintenance—even though material costs for LED systems are higher than traditional lighting. "Traditional lighting systems increase ground time for maintenance, which means delayed departures," he notes. "That, along with parts-shortage issues and maintenance labor, drive the majority of the costs with traditional systems."
Nonetheless, he cautions that exterior LED lights can exhibit "luminosity loss" over time, meaning that with some applications, compensation for aging, or lifetime cut-offs, needs to be factored in. "Exterior lights also have to cope with environmental factors such as extreme temperatures, moisture, increased vibration and bird strikes," he says. "However, most of these issues can be mitigated with good enclosure designs. In drop-in retrofit applications, these considerations have customarily been taken into account already," he says. 
Cheng predicts that going forward, LED exterior lighting will be standard equipment. "Airlines are equipping their aircraft with LED exterior and interior lights prior to service if they are not already equipped from the factory," he says. "Cargo conversions will also drive some exterior LED retrofits."
Patriot Taxiway Industries' Steven Smith also sees forward and retrofit opportunities with LED exterior lighting. "Until recently, we had focused mainly on the military aircraft market, but we are now moving into business aviation, and working toward meeting the level of certification required for commercial airliner retrofit," he states.
In that regard, the aircraft lighting specialist has made its first move into the civil aircraft market under a contract with Textron Aviation to supply LED lighting for the logo and wingtip-mounted downwash lights on the new Cessna Citation Longitude midsize business jet. At the same time, demand is increasing for LED upgrades on legacy aircraft. One reason he cites is the fact that incandescent lighting, even for the exterior, is becoming harder to source. "When the lights can be found, they are often three to five times their original cost," Smith says.
Commercial aircraft OEMs and suppliers are moving rapidly in the direction of LED exterior lighting for both newly built and older aircraft retrofits. In fact, according to UTC Aerospace Systems' Neal, all new aircraft programs today incorporate the latest LED technology exterior lights. "In addition, airlines are highly interested in upgrading their fleets, moving from conventional-technology exterior lights to state-of-the-art LED technology due to higher reliability and attractive payback models," he says.
For example, UTC Aerospace Systems recently developed a complete exterior LED lighting retrofit package for the Airbus A320 family. Made available under a UTC Aerospace System supplemental type certificate as an entire system or with selected lights per customer requirement, the latest-technology LED lights feature a near-end-of-life indicator, visible to ground crews during regular function checks. As designed, the indicator will flash a warning when it detects 1,000 operating hours before light performance goes below federal aviation regulation minimums. "This allows the operator to plan the unit's replacement at a convenient maintenance opportunity," says Neal, who adds that LED retrofit solutions for other commercial aircraft platforms are currently under development.
Boeing Commercial Airplanes is also taking major steps toward using exterior LED lighting with its new 777X, which will be the OEM's first aircraft to be produced with an all-LED exterior lighting system. As Julian Chang, associate tech fellow at Boeing, points out, the airframer had previously equipped its new jetliners with exterior LED lights on a partial basis. "For example, all of the 787s' colored lights—the anti-collision lights and the white strobe lights—are LED, while the 737 MAX's landing, taxi, and runway turning lights are LED," he says, adding that Boeing is also replacing high-intensity discharge lights such as logo and landing lights with LEDs.
Chang says that from an optical perspective, compared to incandescent lights the "LED lighting spectrum has done a better job" of illuminating yellow runway stripes, making them more visible to pilots on landing. "LED anti-collision lights are a deeper red color than the traditional flash tube orange-looking lights," he says. "Red provides more steady illuminating for the human eye compared to the soft flashing lights, so there's more recognition with LED anti-collision lights."
The Boeing-designed LED landing and taxi lights, explains Chang, will last at least 10,000 hr., compared with just 300 hr. for incandescent lights. The LED position lights, he says, are good for 25,000 hr., compared to 2,000 hr. for a halogen lamp.
Chang says that Boeing Global Services, the OEM's customer support organization, also plans to develop an exterior LED lighting retrofit program, as a drop-in or plug-and-play replacement solution applicable to the entire Boeing commercial aircraft family. Boeing, he adds, has designed the LED module to be "on-aircraft replaceable," meaning that no special tools or structural modifications will be required. "For airlines, this means common parts, along with less inventory," he notes.
Boeing Global Services, Chang says, is also studying the application of LED lights for other areas, such as the cargo compartment. "Boeing is constantly looking to expand LED technology.  For example, we are taking an organic LED approach—making them lighter- weight, as little as a piece of paper—as well as flexible so that a technician can shape the lights in place when installing them on an aircraft."
But will airlines transition their legacy fleets to exterior LEDs on a wider scale? It depends on whether the business case makes sense. Among the factors to consider, says Honeywell's Pope, are life-cycle costs. "For instance, the airlines might find that using incandescent exterior lights mandates frequent change-outs—resulting in high labor costs and flight delays. However, going to an LED product could result in significant cost savings over the life of the aircraft," he says. "A lot will also depend on how long the airline plans to [operate] a specific aircraft or fleet type."
Pope advises that the payback period for retrofitting should be no more than two years, predicated on installation (labor) costs, replacement LED units and the fuel savings that the lighter-weight units provide.
Asked about enhanced safety, especially during ground operations, Pope states that while Honeywell has not done a formal study, some airlines report that with LED lighting, they have seen fewer ground collisions due to the quality of the lighting that LEDs provide. "That has made it easier for pilots to see any nearby obstructions. According to those reports, this has prevented collisions with ground service vehicles and with other aircraft on the ground, such as wingtip strikes," he says.
UTC Aerospace Systems' Neal reports that the OEM has designed its LED flood and spotlights with a higher light intensity and cooler light color, which more closely mimic daylight characteristics than prior-generation exterior lighting products. "This leads to an improved range of sight for the pilot in comparison to conventional technology. At the same time, LED navigation lights have a better color intensity, and anti-collision lights feature intense flashing characteristics to provide better visibility at longer distances," he asserts.