Comprehensive Aerospace Engineering Services
Sheffield Aerospace specializes in providing top-tier aerospace engineering services to airline and MRO material solution programs. We work to safely and compliantly, identify, evaluate, and introduce alternate material solutions (PMA, STC, OOP Parts, and DER Repairs) into the airline's operating systems.
Our team handles this by engineering unique solutions while working closely with the airline's engineering and supply chain organizations. From the initial design conceptions to the final approval process, our company takes a more in-depth approach, offering much more than just another "PMA Program." Additionally, we provide on-site engineers to take care of your aviation engineering solutions while also providing you with support to manage and sustain your new material solution system.
It is through our advanced experience, specialized toolset, and sophisticated database software that our company has become the global leader in aviation support. Contact us today to learn more about our services and to let us help reduce your airline's costs while increasing your reliability.
Our Services
Aerospace Program Management
Material Solutions - PMA, OOPP, DER Material Total Support (From Supply Chain Management to Engineering Approvals)
Warranty Program Development and Management
Engineering Document and Tech Pubs Management
Configuration Review and Control
Reliability Program Implementation and Management
Engineering, Supply Chain, and Tech Pubs Process Improvement & Optimization
Aerospace Engineering Services
Fleet Engineering
Fleet Management Engineering
Propulsion Engineering
Interiors Engineering
Workscope Engineering
Operations Support Engineering
Liaison Engineering
Component Engineering
Reliability Engineering
PMA Processes & Program Management
OOPP Processes & Program Management
STC Project Development and Approval Process
Repair Development and Authorization Processes– Aircraft, Engines, and Components
Reverse Engineering Processes
Rapid Prototyping Project Management
Aircraft Interior Design, Alterations, & Modifications
Aircraft Interior Project Management
Workscope Development/Implementation – Components & Interiors
Aircraft Structures Engineering Repair Authorizations
ERP Systems – SCEPTRE, SAP, DECS
Warranty Management Programs
Aircraft Interior Lighting Design & Alterations
Aircraft Interior Lighting LED Modifications & Alternations
Aircraft Interior Electrical System Trouble Shooting
Reliability Troubleshooting and Analysis – Aircraft, Engines, & Components
Aircraft Interior Problem Solving and Innovation
Aircraft Interior Branding & Marketing Program Development
Aircraft Maintenance Program Oversight, Back End Support, Implementation
Maintenance Manual Support, Publication, and Oversight
Component/Part Beyond Economical Repair (BER) Program and Analysis
Avionics Engineering, Trouble Shooting, Support
Tooling Creation, Design, Certification, Approval, Compliance with Precision Measuring Equipment Tooling (PMET)
Liaison Engineering - Aircraft Structures, Electrical, Interior, Operations Support
Customer Satisfaction to Maintenance /Aircraft Interior Correlation Analysis
New Part Design, Certification, Production, Airline Approval, and Installation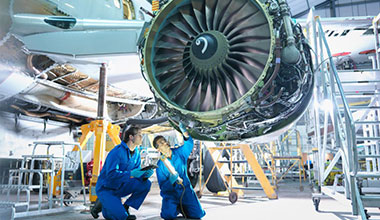 System Expertise & Coverage
Sheffield Aerospace has experience in virtually all ATA Chapters, nose-to-tail, and wingtip-to-wingtip. Our coverage includes, but is not limited to:
Aircraft Systems: Air Conditioning & Pressurization, Communications, Electrical Power, Equipment & Furnishings, Fire Protection, Flight Controls, Fuel, Hydraulic Power, Ice & Rain Protection, Landing Gear, Lights, Navigation, Oxygen, Pneumatics, Water & Waste, Inert Gas Systems, and APU
Structures: Cargo, Doors, Fuselage, Nacelles / Pylons, Stabilizers, Windows, and Wings
Power Plant: Engine, Engine Fuel & Control, Ignition, Air, Exhaust, Oil
All criticality levels are supported.
While every program will be different, depending on client needs and objectives, you can be certain that our rigorous analytics, balanced with practical, experienced judgement, will deliver real business solutions.
Aerospace Safety and Compliance
At our company, we understand how important it is that our clients stay up-to-date on all FAA, EASA, and other aviation authorities' regulatory and compliance requirements. Our staff includes members that have extensive experience working for and with these regulatory organizations, giving us a clear understanding of regulations and safety procedures.
When it comes to air travel, there is nothing more important than safety on the ground. Anything to do with an aircraft begins at assembly, and from there, maintenance and routine checks are critical to ensure everything is working as it should. There are strong correlations between lack of maintenance and the incidence of accidents in every aspect of our lives, and air travel is no different. Sheffield Aerospace is dedicated to aviation support and the importance of maintaining safety and compliance within the industry.
Talk to us about aviation support when you need to know what regulations and policies are required in your business to keep yourself and others safe while in the air. We are your source for air travel solutions, maintaining compliance in the market, and ensuring the longevity of your aviation business ventures. We support your mission to reduce costs while increasing reliability and protecting not only the safety of travel, but also your company's reputation.
Our experts can give you detailed information on the regulatory bodies that manage all aspects of the safest way to travel. Contact us for more details on aviation support and feel more confident about safety and compliance.